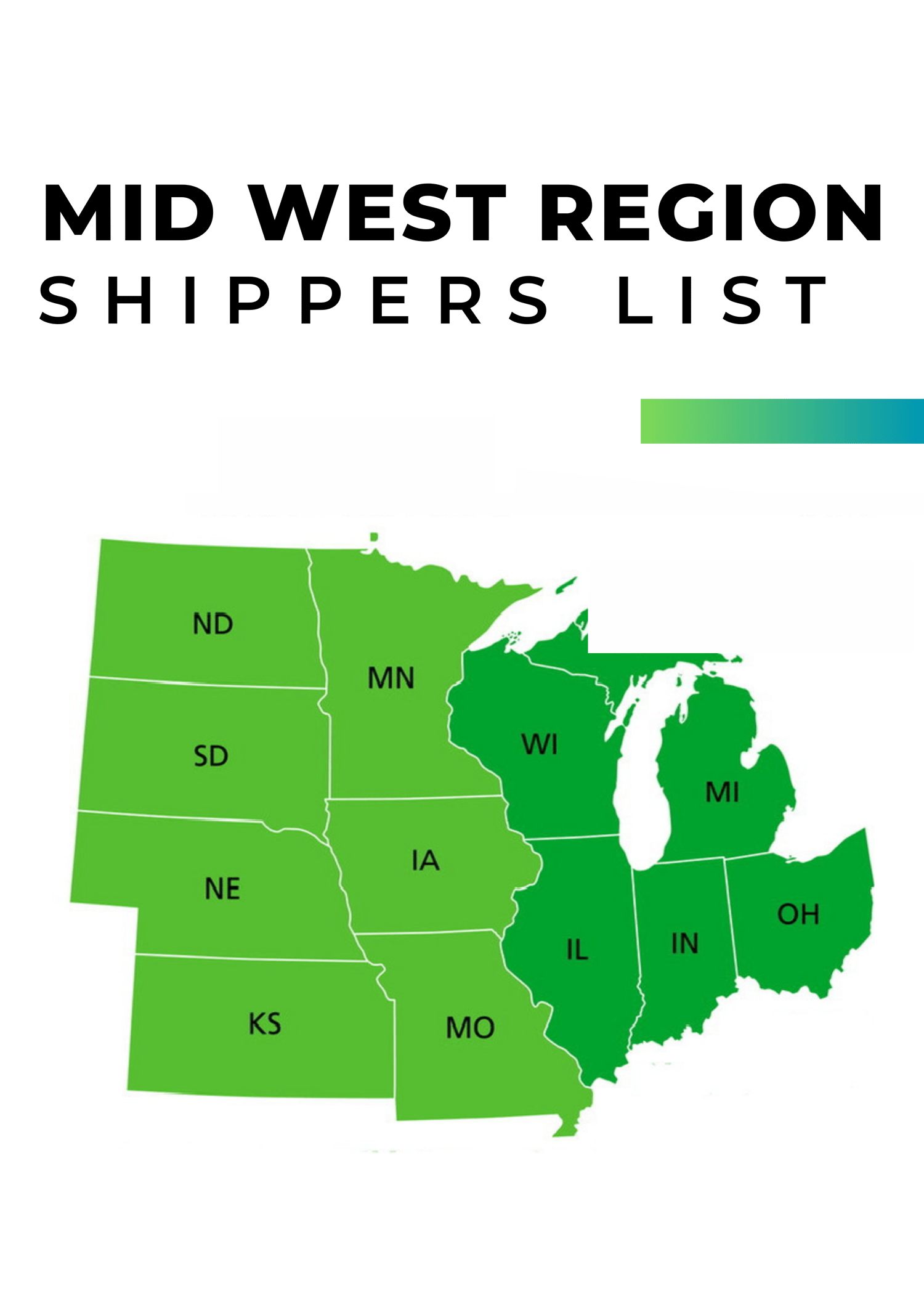 Mid West Regions Shippers List
Our Midwestern Region Shippers List is a indispensable resource containing over 6,000+ contacts and details from shippers located in the Midwestern states of the United States. This comprehensive tool is designed to simplify your search and facilitate the expansion of your trucking business within the dynamic Midwestern region. With the Midwestern Region Shippers List, you gain access to a wide array of opportunities and connections specifically tailored to this geographical area. Streamline your operations, tap into the Midwestern market, and unlock the full potential of your business with our invaluable Midwestern Region Shippers List.
Purchase Process: Upon purchasing the load list, you will promptly receive a PDF file via email. This PDF contains detailed instructions on how to download and access the list, ensuring a smooth and seamless delivery process. Our goal is to provide you with clear and user-friendly guidance, making it easy for you to retrieve your load list efficiently.
Trailer/Freight Type: To optimize your search process, we recommend utilizing the "Product Type" column within the Shippers List. This valuable feature provides insights into the specific type of freight each shipper specializes in. By leveraging this information, you can swiftly identify shippers that align with your trailer type, enabling targeted and efficient business connections tailored to your trucking operations.
Support and Assistance: Should you encounter any difficulties during the purchase or download process, or if you have any further questions, our dedicated support team is always ready to assist you. You can reach out to us via email at info@prohaultv.com. We are committed to ensuring your experience is smooth and satisfactory.
We sincerely appreciate your decision to choose our services and entrust us with your trucking needs. Rest assured that our comprehensive shippers list will provide immense value to your operations. Good luck with your trucking endeavors, and thank you for your business!
Disclaimer: Please note that our load list is a result of meticulous research from various data providers in the trucking industry. While we strive for accuracy, it is essential to independently verify contact information as some data may be incomplete or require further research. We do not guarantee real-time accuracy and assume no liability for any reliance placed on the provided information. Prioritize caution and independently verify contact details before engaging with direct shippers listed in the load list. By purchasing and using this list, you acknowledge and agree to these terms.